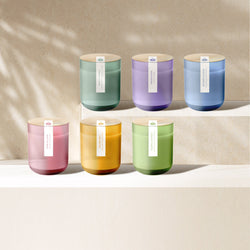 Get free shipping for orders $75 and above.
Free shipping for any orders above $75!
Scent and perfume have long been associated with self-care. 75% of all emotions generated every day are due to smell. The scent, the strongest of our five senses, has the power to invigorate your senses and improve your overall wellness.
Transform your space into one of self-care with the Skin Inc Embrace Candle collection, featuring 6 unique scent blends. Infused with pure essential oils, the hand-poured soy-wax candles offer a soothing fragrance to invigorate your mood, invite calm to a busy world and improve sleep quality with aromatherapy.
an innovative beauty disruptor

SKIN INC LOYALTY
For every $1 spent, earn 1 loyalty point and more

Free Shipping above $75
Spend over $75 and receive free shipping.

secure payments
Shop worry free.