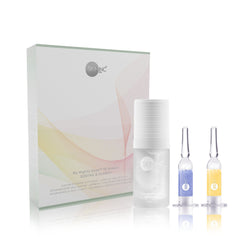 My Nightly Dose™ of Armour
Get free shipping for orders $75 and above.
Free shipping for any orders above $75!
Protect your skin against excess sebum and skin discomfort with My Nightly Dose™ of Armour. This kit contains 2 boosters of Soothe and Clarify with a Hydro-Gel sleep mask base.
My Nightly Dose™ of Armour will work hard to recharge your skin as you sleep. Simply leave on while you snooze, and wake up the next morning to a healthier skin barrier with reduced inflammations. Effortless beauty, boosted. 
Soothe - To Hydrate & replenish the skin barrier
Rich in 4 types of Hyaluronic Acid with different molecular weights + Ceramide to help strengthen and replenish the skin barrier and hold moisture for multi-depth hydration, by infusing into different layers of the skin surface.
Clarify  - To help improve the appearance of problem skin & balance sebum
An optimum blend of 5% Niacinamide + 0.6% Salicylic Acid helps refine the appearance of pore size, effectively balances uneven texture and skin tone, keeping skin clear and shine-free.
an innovative beauty disruptor

SKIN INC LOYALTY
For every $1 spent, earn 1 loyalty point and more

Free Shipping above $75
Spend over $75 and receive free shipping.

secure payments
Shop worry free.