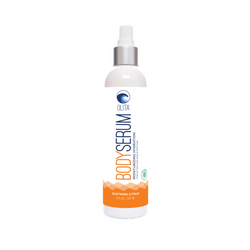 OLITA Hydrating Body Serum Soothing Citrus
Get free shipping for orders $75 and above.
Free shipping for any orders above $75!
This nutrient-packed light oil-serum is perfect for every day hydration or cooling down after a day in the sun. Anytime your skin needs some calming hydration! Deeply moisturizing but never greasy, our carefully curated blend of plant extract oils and Vitamin E restores essential nutrients and leaves skin with a nourished glow. Natural scents of soothing citrus give your skin a refreshed, happy glow.                                       
NOW in a PCR (post-consumer use recycled) sustainable bottle! Premium all-natural ingredients specially selected to provide optimum soft and soothed skin every day or after a day in the sun.                                                 
EWG Verified means this product meets EWG's strictest standards for transparency and health. It shows that this product avoids EWG's ingredients of concern, is committed to full transparency and operates under good manufacturing practices.
Spray on skin and rub in to hydrate. Reapply as needed.
OLITA's Soothing Citrus Body Serum premium ingredients: Cocos Nucifera (Coconut) Oil, Carthamus Tinctorius (Safflower) Seed Oil, Aloe Barbadensis (Aloe Vera) Leaf Oil, Prunus Armeniaca (Apricot) Kernel Oil, Vitis Vinifera (Grape) Seed Oil, Isopropyl Myristate, Capric/Caprylic Triglyceride, Tocopherol (Vitamin E) Acetate, Citrus Racemosa (Pink Grapefruit) Peel Oil, and Citrus Sinensis (Orange) Peel Oil.
an innovative beauty disruptor

SKIN INC LOYALTY
For every $1 spent, earn 1 loyalty point and more

Free Shipping above $75
Spend over $75 and receive free shipping.

secure payments
Shop worry free.