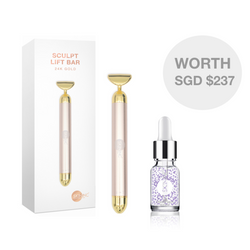 [Sept 2023] De-puff & V-Lift Kit (Worth $237) - DTC
Get free shipping for orders $75 and above.
Free shipping for any orders above $75!
The Gift Set (Worth $237) includes:
1x 24K Gold Sculpt Lift Bar Facial Tool (Worth $169)
1x Chlorella Serum 10ml (Worth $68)
an innovative beauty disruptor

SKIN INC LOYALTY
For every $1 spent, earn 1 loyalty point and more

Free Shipping above $75
Spend over $75 and receive free shipping.

secure payments
Shop worry free.